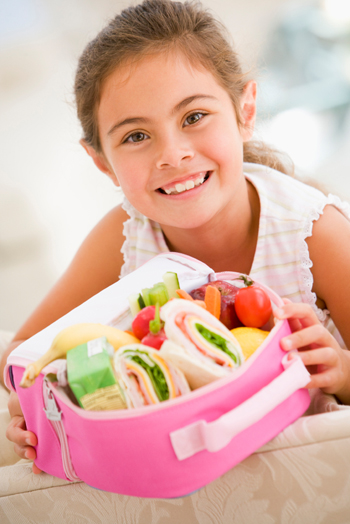 Make sure your child is eating a nutritional lunch everyday that is free from excess sugar and salt
.
The U.S. government didn't help public schools provide lunch for students until 1930s. Parents need to make sure their child is getting nutritional lunches. Check the school menus and make sure your child will eat what is being served each day. More food ends up in the trash during lunch time. According to an article in TIME For Kids, October 2009 issue, the time line below shows how the school lunch has changed through the years.
1880: Most kids bring lunch to school in a sturdy metal bucket
1900: The first tin lunchbox is made. It is decorated with pictures of children playing
1930: The government begins helping schools start lunch programs.
1946: The U.S. establishes the National School Lunch Program, to help ensure that kids' nutritional needs are met.
1954: The government adds the Special Milk Program. It provides a half pint of milk each day to each child.
1972: The Congress allows vending machines in schools.
1997: The first farm-to-school programs started.
2010: More than 31 million children participate in the National School Lunch Program. Some school districts are trying to limit sugar and process foods that are offered in schools. Maybe it's time to start packing our children's lunches again.