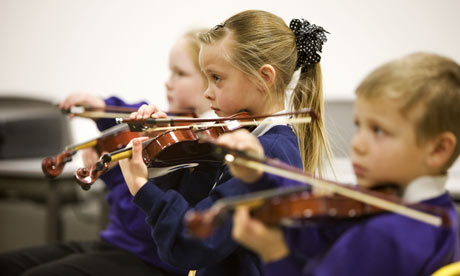 According to "
You're Smarter Than You Think
", by Thomas Armstrong, music can help you learn more in school and feel better overall. Even if you can't sing on key, you can still learn how to play an instrument. No one learns these things overnight, and everyone, even someone who's super musical, has to practice in order to improve. Anyone can become Music Smart, and below are seven suggestions to help your child become more Music Smart:
1. Listen to lyrics of songs. Pay attention to how the lyrics work with the music.
2. Find the math in music. Part of music is about patterns and counting.
3. Draw, paint, or sculpt what you hear. Perhaps the music inspires actual images for you.
4. Move to the music. Dancing is a good place to start, but any kind of movement - aerobics, yoga, Tia chi, or even doing bead work can be done to music.
5. Tr making music with other people. Sing songs with your friends or family.
6. Pick out different kinds of music and listen to it. What does the music make you feel and think?
7. Listen for sounds in music that remind you of sounds inn nature - like birdsong, gurgling water, rising winds. Listen to music about nature or animals.
Pick the 1 or 2 that your child will enjoy or be good doing. Help your child become more Music Smart because after awhile your child and you will start to find some real joy and satisfaction in expressing the music that's inside.