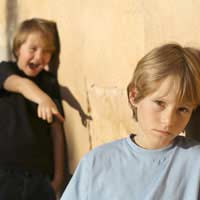 Backstabbing and cruel jokes are all too common among middle-school girls and boys, say the experts behind
The Ophelia Project
, dedicated to stopping "relational aggression" in schools. Here's their advice for reforming tween and teens:
1. Attitude Problem #1: The kids think, "I was only kidding", or laughing with my friends. The problem is they need to be aware of the harm of bullying and it is not just physical aggression. Words can be even more harmful
2. Attitude Problem #2: When the school holds a character assembly the kids think it is silly and the teachers don't get it. The school must not oversimplify social situations by asking kids what they would do if kids made fun of them. Instead, try reading books that portrays realistic bullying.
3. Attitude Problem #3: It's not cool to talk to teachers. Some kids will never talk to teachers, so there should be a "communication box" in the classrooms where students can drop short anonymous notes.
4. Attitude Problem #4: But we were just standing there. We didn't do anything. Middle
schoolers
often have the idea that as long as they didn't write the letter or say the unkind words, they're not to blame - even if they're snickering at it.
Watch
a movie that illustrates all the players in the bullying game.
Odd Girl Out
is a good one. Finally, apply the movie to what is going on in schools.
Edge-If-Your-Seat-Bullying Books
*
Names Will Never Hurt Me
, by Jaime
Adoff
*
The

Buffelo

Tree
, by Adam
Rapp
*Shattering Glass, by Gail Giles
*Slam, by Walter Dean Myers
*
Loser
, by Jerry
Spinelli
*Feather Boy, by Nicky Singer
*
Tangerine,
by Edward
Bloor
To read more about bullying and what the schools can do, read the article from, Instructor Magazine, January/February issue.