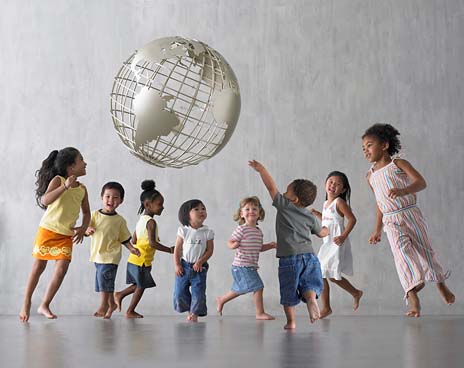 Yesterday we discussed the importance of teaching our children tolerance and talking about the world and all the different people who live in it. In an article from
Parent
, December 2009 issue, Katherine Whittmore wrote about "forgetting color blindness" and not waiting for your children to bring up the topic of race. Below, Katherine discuss two important issues to assure your children are tolerant of others' differences:
1. Walk the Walk: Books and festivals are great, but true respect sinks roots when diversity comes in the form of friends and neighbors. Cynthia Garcia Coll, PhD., a psychology professor at Brown University states, " I've been thinking about this for a long time, and I believe that modeling is more powerful than teaching." If you have friends from all different racial and ethnic backgrounds, it shows your children more about tolerance than talking about it. But if not, and you live in a homogeneous community, then teaching tolerance will be a lot harder.
2. Give kid the confidence to ask questions when they are confused: Make sure you are comfortable with the topic of tolerance before confronting the topic of race with your children. This is for parents of all races. Many times we think we are more tolerant then we truly are. Search your own heart and truly face the prejudices that are within before trying to teach our children about race and tolerance. A parent must be honest about instances, historical and current, when people have been mistreated because of their difference. If you see characters on TV or in movies that offend you, Bring It Up and talk about it.